Thoughts on the Sharing Economy
How about a contentious post to start the week?
Over the weekend, I saw on my feeds that there was a certain buzz regarding the law passed in California that declares
car-sharing organized via app are illegal in the state now
. So pretty much, apps like Uber and Lyft, both based in California, with their carpooling features on these apps, can't be used anymore.
These companies have faced road blocks all over the world in launching their services, and sites like
Airbnb
have also seen similar issues in cities that aren't keen on allowing people to sublet their apartments.
I'm an avid user of sharing economy type apps and sites, and have been since Couchsurfing launched way back when! These services have allowed me to travel in my days as a penny pinching college student and recent grad. I've also had a pretty good run hosting via Couchsurfing, Airbnb + am an unofficial tour guide in my city through a website that allows this sort of thing. It's great for meeting people from all over the world, and making a bit of extra cash, especially since I quit my job to become a ruthless entrepreneur.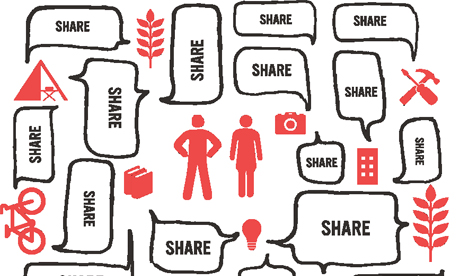 I recently had a bit of a clash in my own building, where I was asked to remove my listing on Airbnb because it was "bothering" my neighbors that there were so many different guests coming in and out of the building with such a high frequency. How they discovered the listing, I don't know. But it was clearly an issue for many if they went out of their way to find it and accuse me of "running a hostel," in my apartment. I immediately removed the listing, to not cause any more trouble with my neighbors.
I also host a bunch of my friends and friends of friends at my apartment, especially considering São Paulo is such an expensive city. It's a nice way to see friends who live so far away and also give them a break on paying for a hotel.
I had a couple of friends over a few weeks ago and my new roommate, a sweet French girl, moved in around the same time. I was faced with yet another warning saying I was commercializing my apartment.
This angered me profusely and I called the building manager to ask what happened. He said I continued to host, "strange people who didn't even speak Portuguese," and
ONE
of my neighbors was uncomfortable with it. ONE. Because I'm hosting
STRANGE LOOKING PEOPLE
.
What the front of my building should look like at this point...
I immediately became infuriated. This wasn't a security issue. This wasn't an issue of me making money on my rental unit. It was an issue of pure discrimination.
I think the biggest issues with the sharing economy aren't necessarily that they're against certain laws or there are security issues involved. They are certainly issues to be considered, of course. But most of the laws that are against these were implemented before any of these technologies and communities existed, and nowadays, leaving your house (or even being in your house), can become a security issue.
The biggest problems are, they're against the norm and are taking business away from others. I can't have foreign friends over, because this causes discomfort to those who don't speak their language or because they look different. Or I'm taking business away from hotels and hostels. I can't take people around the city on my own because I'm taking work away from official guides. I can't hitch a ride with someone because that would mean not paying the government for a public transport ticket.
I'm a travel agent, and these issues affect my business as well. But I also think we need to take into consideration that the world's changed and there are many different markets for many different people. My clients are not the type of people who would want to rent a bedroom in a stranger's apartment. They want luxury accommodations and private drivers.
But like I said, not everyone can afford this. I certainly couldn't and was able to travel to many different countries that would traditionally be out of my budget, because of sites and apps like these.
What do you think of these sorts of apps and technologies?!